Meredith Jolie co-hosts event with Judge Paul L. Friedman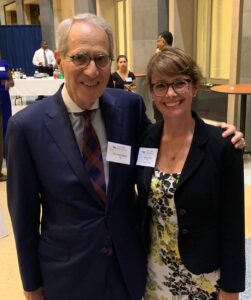 On Thursday, July 19, 2019, Maggio Kattar immigration attorney Meredith Jolie co-hosted the annual reception for alumni of the University at Buffalo School of Law. This event is hosted each year at the courthouse by   Judge Paul L. Friedman of the U.S. District Court for the District of Columbia .
This particular courthouse is rich with history. Since it is the federal courthouse of D.C., the judges handle many of the newsworthy cases such as Watergate, Guantanamo Bay detainees, and the Mueller investigations. Judge Friedman is also well-known for overseeing John Hinckley, Jr.'s case, who attempted to assassinate President Reagan.
Maggio Kattar is proud to have a team of professionals with diverse backgrounds and interests, with  a strong presence in the legal community.  We leverage our connections to legal professionals in all areas of law to  help us provide comprehensive solutions for our clients.