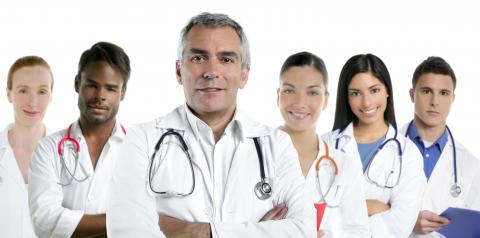 International medical graduates (IMG)s are physicians who graduated from a medical school outside the US or Canada. IMGs who wish to become licensed to work in the U.S. must have had at least four years of medical school which is qualified under the Foundation for Advancement of International Medical Education and Research (FAIMER) and complete an accredited residency or fellowship program in the US. IMGs who seek entry into the U.S to complete an accredited residency or fellowship must obtain a visa that permits them to do so. Most IMGs, who are not US citizens or permanent residents, enter the US on the J-1 exchange visitor visa, primarily intended for training, or an H-1B temporary specialty profession worker visa.
The J-1 Visa:
There are no limits on the number of J-1 visa issued to applicants each year and the J-1 is less expensive than an H-1B visa, therefore the J-1 is the easiest visa for International Medical Graduates seeking entry to the US to complete a residency or fellowship to obtain sponsorship for. The maximum duration for a J-1 visa is directly tied to the length of the training. To continue to work and live in the U.S. once the prescribed training course ends, an IMG must be granted an H or L visa status or permanent residence. There are other limitations for IMGs coming to the U.S. in J-1 status :
No "moonlighting":
Federal regulations do not permit employment outside of the approved residency or fellowship training, therefore "moonlighting" is not permitted to supplement income.
2-year home residency requirement:
Applicants for a J-1 visa must prove that they have sufficient "home ties" which will compel them to return to their home country upon completion of their training. The reason for this requirement is that J-1 visa holders are normally subject to a requirement that they return to and reside in their home country for two years (referred to as the "home residency requirement") before they may be granted an H or L visa status or permanent residence.
Waiver of the 2-year home residency requirement:
This requirement to return to their home country may be waived under a program referred to as the "Conrad 30 program". First introduced in 1994, and updated most recently in 2008, The Conrad 30 program addresses the issue of physician shortages in rural and urban areas of the United States by allowing each State's Department of Health to sponsor up to 30 international medical graduates (IMGs) each year for waiver of the two-year home residency requirement of the physician's J-1 visa, for those physicians who will work in DHHS designated medically underserved/shortage areas. Of those 30 waivers, states are now also able to consider up to 10 FLEX waivers, for physicians agreeing to work in areas which are not designated as underserved, but that serve individuals residing in neighboring underserved communities. The approved Conrad J-1 waiver applicants would be required to serve in federally designated shortage area (either rural or urban) for no less than three years.
The H-1B Visa:
The H-1 temporary worker visa is the second visa option for an IMG to come to the US to train and practice. This visa is used a number of international workers in many specialty occupations. The total number of H-1B visa issued in the US each year is limited to 65,000 and the number of H-1B visa applications far exceeds this cap. Therefore, it is still possible that not all IMGs (and their employers) wishing to get a visa will get one. There is also a cap exempt H-1 B visa which is available to IMGs only with an offer of employment at an institution of higher education, a related or affiliated nonprofit entity, a nonprofit research organization or a governmental research organization. The maximum duration of the H-1B visa is generally six years, unless the application for permanent residence (green card) process has begun.
Resources:
Start Your Journey Here
It's easy, safe, and flexible to share your information.
Click a button to get started.