Rochelle Dramesi - Attorney
Email:
rdramesi@maggio-kattar.com
Phone:
202.483.0053
Education: American University Washington College of Law, JD cum laude
Languages: Sinhalese
Immigration Law Specialization:
Business Immigration
H-1B visas
L-1 intracompany transfer visa
Non-Immigrant Visas
Employment Based Immigrant Visas (EB 1-3)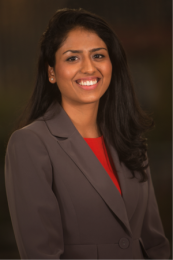 Rochelle focuses her practice on employment-based immigration. As a business immigration attorney, she partners with employers to ensure a smooth process as they leverage both non-immigrant and immigrant visas to help them fill critical positions within their organization. Rochelle is particularly experienced in H-1B skilled worker, L-1 intracompany transfer non-immigrant petitions, J-1 Physician waivers and , and EB-1-3 immigrant (green card) petitions.
While at American University's Washington College of Law, Rochelle represented immigrants before the Baltimore Immigration Court, and U.S. Citizenship and Immigration Services as a student attorney for the Immigrant Justice Clinic. Prior to graduating from law school, Rochelle was a law clerk at Maggio Kattar. She received a B.A. in Political Science and Economics from The Pennsylvania State University. Rochelle's practice is limited to federal immigration matters and she is admitted to practice in the state of Maryland. Rochelle is conversant in Sinhalese, and is also a member of the American Immigration Lawyers Association (AILA).