George Thompson - Attorney
Email:
gthompson@maggio-kattar.com
Phone:
202.483.0053
Education: The George Washington University Law Center, JD
Accreditation: Admitted to Practice in the District of Columbia
Immigration Law Specialization:
Employment-Based Non-Immigrant Visas (H-1B, L-1, TN, E-3)
Employment-Based Immigrant Visas (PERM)
Family- Based Immigration
Asylum and deportation defense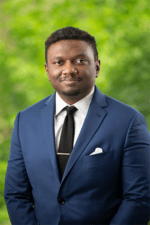 George Thompson is an immigration attorney based in Maggio Kattar's Washington DC Headquarters. George comes from family full of immigrants on both sides, including his parents, as such he has a keen understanding of those who desire to uproot their former lives to come and live in the U.S. and the difficulties often involved in the process. As such, he prides himself on being able to make the process as easy to follow and understand for any client.
His primary practice areas include non-immigrant visas, family-based permanent residence, and employment-based permanent residence, PERM, and intracompany transfer visas.
George has also had additional experience working with clients in removal proceedings within the immigration court system, advocating for clients seeking asylum within the U.S. and defending individuals facing deportation. This experience also included aiding clients with waiver applications, motions to reopen/appeals, and stays of deportation. As such, George has broad knowledge of the entire U.S. immigration system from U.S. Citizenship and Immigration Services (USCIS) to Immigration and Customs Enforcement (ICE) to the Executive Office for Immigration Review (EOIR).
George graduated from The George Washington University Law School in 2015, and received his B.S. in Legal Studies with a Minor in Political Science from the University of Central Florida in 2011. George is a Member of the Bars of the District of Columbia and Maryland, as well as the American Immigration Lawyers Association (AILA).