Elizabeth Quinn - Shareholder
Email:
equinn@maggio-kattar.com
Phone:
202.483.0053
Fax:
202.483.6801
Education:
George Washington University Law School, JD
The College of William & Mary, BA – Government (Major), French (Minor)
Université de Montpellier – Junior Year Abroad
Accreditation: Admitted to Practice in the District of Columbia
Languages: French
Immigration Law Specialization:
Extraordinary Ability, Outstanding Researcher/Professor petitions
EB2 National Interest Waiver (NIW) petitions
"E" Investment and Treaty Trader vsas and L Intracompany Transferee visas
J-1 Visas including J-1 Waivers of the two-year foreign resident requirement
J-1 Physicians
O-1B and P visas for actors and performers, musicians, artists, and top chefs
O-1A visas for extraordinary ability individuals in business, sciences, athletics and education
Complex and routine naturalization
Family-based immigration
Waivers of Inadmissibility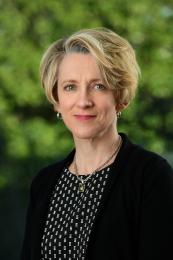 Elizabeth Quinn is known for her creative solutions to some of immigration law's toughest cases. A recognized authority on business immigration matters and the unique problems of J-1 exchange visitors. Among her clients are hospitality and biotechnology companies, physicians, researchers, O-1 artists and musicians, prestigious think tanks, and those working in the human rights field. She has a particular expertise in developing creative solutions for those seeking permanent residence under the EB1 extraordinary ability and outstanding researcher categories and EB2 "national interest waiver" petitions. She works with global companies in transferring employees to US subsidiaries and affiliates on L and E visas. She also handles family-based immigration matters, routine and complex naturalization applications. Her J-1 expertise encompasses advising on obtaining J visas for trainees, interns and specialists, and options for obtaining waivers of the two year home residence obligation (no objection, hardship, persecution and Interested Government Agency/IGA waivers).
Elizabeth has written and lectured on a wide-range of immigration issues, from introductory immigration law courses for other lawyers to the complexities of visa options for international medical graduates. She has been recognized as a top lawyer by The Best Lawyers in America, Who's Who Legal-Corporate Immigration, Washingtonian magazine, and The Washington Post.
A member of the American Immigration Lawyers Association (AILA), Elizabeth has lectured at AILA conferences, is a member of AILA's Rome District Chapter focused on consular issues and previously served on AILA's Department of State liaison committee (2009-2011). She has served as faculty for the District of Columbia Bar Association's Continuing Legal Education (CLE) program, organizing courses and publications, and lecturing, on nonimmigrant and immigrant visas, as well as family immigration issues. She is a member of the National Association of Foreign Student Advisors (NAFSA) and the National Lawyers Guild-National Immigration Project. Since 2019, Elizabeth has served as a court-appointed Trustee of the District of Columbia's Clients' Security Fund.
Elizabeth graduated with honors from The George Washington University Law School in Washington, D.C. (1993), where she was selected as a first-year research assistant in the GWU Government Contracts Program and was a student attorney in the school's Immigration Law Clinic. She holds a BA in government, with honors, from The College of William & Mary (1985-1988). Elizabeth spent her junior abroad at the Université de Montpellier in France. She is proficient in French and travels regularly to France to meet with corporate and individual client
Selected Publications
Advanced IG J-1 Waivers: "How to Get the Government Interested," (with Borene and Brey), AILA Immigration Practice Pointers, 2015-2016 Ed. (AILA 2015)
Family-Based Immigration Law: A Lawyer's Guide, Senior Editor, DC Bar Continuing Legal Education (2013)
"Quirks and Commonalities of Interested Government Agency Waivers," (with Brey and Mehta), Immigration Practice Pointers 2010-2011 Ed. (AILA 2010)
"EB-1-2 Outstanding Researcher Cases: Issues and Trends" (with Berger and Goldman), Immigration & Nationality Law Handbook, 2009-10 Ed. (AILA 2009)
"J-1 Waivers Through the U.S. Department of Health and Human Services (HHS) – Promoting Excellence and Impact in Biomedical Research," The Physician Immigration Book, 2011-2012 Ed., ILW.COM
International Medical Graduates, (with Michael Maggio), Immigration Law & Procedure, Matthew Bender & Co. (1997)
Selected Conference and Other Presentations
Virginia State Bar 49th Annual Conference on Labor and Employment Law, Immigration Issues Employment Lawyers Need to Know (with S. Goodwyn & N. Tynan), 2019
52nd Annual Heckerling Institute on Estate Planning-University of Miami School of Law, Employment and Immigration Law 101 (with L. Doyle), Orlando, 2018
AILA-DC Chapter Fall Conference, Changes in National Interest Waivers (EB2 NIW), Discussion Leader, 2017
Les Ateliers de L'Immigration, Maitrisez L'Immigration De Vos Talents Vers Les Etats-Unis ou Vers La France : Deux Experts Décryptent Pour Vous La Réglementation Des Deux-Pays, sponsored by ITAMA, Lyon, France, 2017
DC Bar CLE, Immigration Law Basics: Handling Family-Based Immigration Cases, May 2016
The American College of Trust and Estate Counsel (ACTEC), Someone To Watch Over Me – Personal Assistants, Nannies, Caregivers, House Managers, Gardeners and Drivers: 21st Century Household Employee Issues," Las Vegas, March 2016
AILA-DC Chapter Fall Conference, Avoiding (& Managing) Pitfalls in Business Visas, Discussion Leader, 2015
DC Bar CLE, Immigration Law Clinic, Nonimmigrant Visas, September 2015
DC Bar CLE, Fundamentals of Immigration Law, Part 1: Overview and Nonimmigrant Visas, March 2015
AILA Annual Conference, Advanced IG J-1 Waivers, Washington, DC 2015
DC Bar CLE, Immigration Law Practice Clinic: Immigrant Visas, August 2012
AILA Audio Conference, "Do I Really Have to Go Home? – What it means to be subject to INA§212(e)," (with Jugovic and Ware), 2010
AILA Annual Conference, "'Lobbying' for the Government's Interest: Advanced IGA J-1 Waivers," Discussion Leader, 2010
AILA Annual Conference, "Making the Grade: Outstanding Researchers & Professors," (with Berger and Goldman), Las Vegas, 2009
Immigration Lawyers on the Web (ILW), Selecting the Best J Visa Category and Exchange Program for Your Client (with D. Klein and L. Shotwell, ACIP), 2009
DC Bar CLE, What Every Lawyer Should Know About Immigration Law – Part II: Family Immigration & Domestic Relations Law, April 2009 and May 2008
AILA Audio Seminar, "The Next Generation: New 'Internship' Regulations," (with A. Brown and L. Magee), 2008