Ekaterina (Kate) Dosmanova
Ekaterina (Kate) Dosmanova - Attorney
Email:
kdosmanova@maggio-kattar.com
Phone:
202.483.0053
Education: UDC David A. Clarke School of Law, J.D., George Mason University, BS
Accreditation: Georgia State Bar (Supreme Court of GA; Court of Appeals, GA)
Languages: Russian ( Fluent)
Immigration Law Specialization:
Employment-Based Non-Immigrant Visas (H-1B, L-1, TN, E-2/3, O-1)
Employment-Based Immigrant Visas (I-140EB-1, I-140EB-2/3)
PERM
Family Based Immigration
Consular Processing
Asylum, Waivers, U visas, VAWA petitions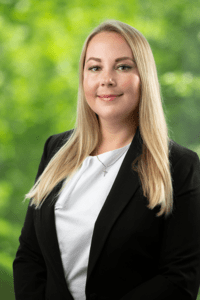 Ekaterina (Kate) Dosmanova is an Attorney at the Washington, D.C. office of Maggio Kattar. Kate focuses on helping employers and their employees navigate the employment-based immigration process. She is experienced in various areas of U.S. immigration law including the preparation and filing of non-immigrant visas and immigrant petitions, as well as permanent labor certifications ("PERM"), adjustment of status applications, consular processing and complex naturalization matters. Kate also has extensive experience representing individual clients in family-based immigration, waivers, and asylum.
Kate has a strong international business relations background and strong interest in Immigration Law and Litigation.
Prior to joining Maggio Kattar, she practiced immigration law as an Associate Attorney at a regional boutique immigration law firm and worked as a Senior Paralegal at a global law firm with an extensive immigration practice.
Kate earned her Juris Doctor degree from the University of the District of Columbia, David A. Clarke School of Law. She also graduated with honors from the George Mason University with the degree in Criminology, Law and Society.
Kate is an active member of the American Immigration Lawyers Association (AILA) and the National Immigration Project.