Adriana Ruiz Robinson - Senior Attorney
Email:
arobinson@maggio-kattar.com
Phone:
202.483.0053
Education: American University Washington College of Law, JD
Accreditation: Virginia State Bar
Languages: Spanish
Immigration Law Specialization:
Family Based Immigration
Removal Defense
Special Immigrant Juvenile Status
Unaccompanied Minors Seeking Asylum
Immigration Consequences of Criminal Convictions
U.S. Visas for victims of crimes and abuse
Humanitarian Relief / Asylum
Unlawful Presence Waivers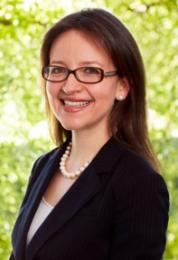 Adriana Ruiz Robinson began practicing law in 2011 and  joined Maggio Kattar in 2017 as a member of our Washington, DC–based Litigation Team. Adriana specializes in counseling adults, children and families on U.S.immigration and removal defense including obtaining relief for individuals with complex cases in removal proceedings. She has extensive experience obtaining unlawful presence waivers for her clients and persuading USCIS to grant motions to reopen files on behalf of her clients.
Adriana's passion for advocating for and defending immigrants began before she even entered law school. Adriana fought for civil rights at the Georgia Commission on Equal Opportunity, investigating cases of housing discrimination and enforcing the Georgia Fair Housing Act. Amoung the people she assisted were immigrants who were discriminated against based on their race and/ or national origin.  Adriana began her career in law clerking for the Public Defender's Office in Washington DC. She later practiced as a criminal defense attorney which now serves to give her additional insight with which to better advise her clients with criminal convictions.
Adriana takes the time to truly listen to her clients and patiently educate them on  their legal options.Adriana's sincere concern and gentle confidence puts her clients at ease and allows her to build good rappor and effective client/ attorney relationships.